Sweet Potato Squash Casserole
Parsley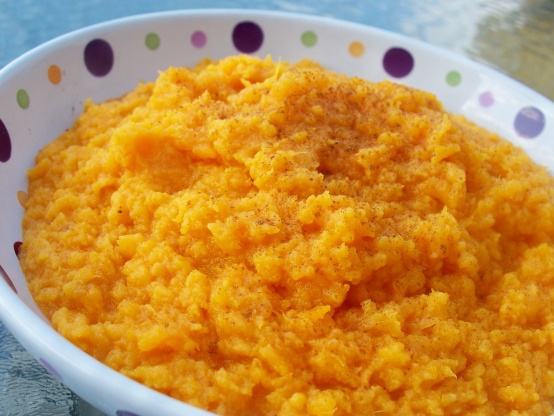 This is from the Low Sodium Cooking newsletter. Better than the marshmallow topped stuff. Cooking time is for baking the raw squash and potatoes. You could try boiling or microwaving to cut the time.

It was delicious! I thought I hated sweet potatoes, but this was an amazing dish and EVERYONE loved it!
Preheat oven to 375° and cut the sweet potatoes in half.
Cut the butternut squash in half vertically and scrape out the seeds.
Put the vegetables, cut side up, in a baking pan and bake, uncovered, until they are very soft, at least 1 1/2 hours.
Scoop the potato and squash out of the skins, combine them, and mash until smooth.
Put the orange juice, margarine, and cinnamon sticks in a small saucepan and heat, reducing until it is about 1/4 cup syrup.
Discard cinnamon sticks and stir orange syrup into the mashed vegetables.