Ola5794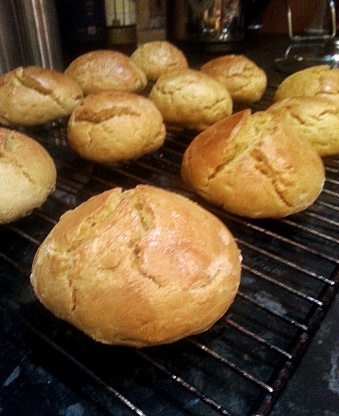 Excellent! I had some sweet potato left in the fridge and I didn't know what to use it for, but when I found this recipe I just had to try! And I'm very glad I did. I doubled everything since I wanted to use all the sweet potato I had left. The only thing I noticed was that the dough needed a lot more flour than stated to make it "dry". I brushed all the scones with egg before I put them in the oven. I was surprised how sweet they turned out, even though I used very little sugar! All my friends wanted to taste, and some of them asked me to share the recipe with them. Thats what I call a success! Thank you!
Preheat oven to 425F and line a baking sheet with parchment paper.
In a large bowl, beat together butter, sugar and salt. Beat in egg, then the mashed sweet potato. Stir until smooth.
Sift in flour and baking powder. Stir until flour is completely mixed inches Dough should be slightly sticky, but not wet. If it is wet (i.e. if your sweet potatoes were unusually moist) add an additional tbsp or two of flour.
Turn dough onto a lightly floured surface and knead three or four times before shaping into a rectangle and rolling out to 3/4 inch thickness. Use a 2 1/2 inch cookie cutter to cut rounds. Reroll dough once and continue to cut rounds. Place all on prepared baking sheet.
Bake for about 15 minutes, until golden.
Cool on a wire rack, or eat warm.