Sweet Potato Puree With Maple
Prep 15 mins
Cook 1 hr 35 mins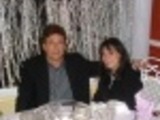 Here is another version of one of my favorites, great on the Thanksgiving table or at any holiday. From Real Simple Magazine November 2005.
Directions
Heat oven to 375 degrees.
Pierce the sweet potatoes several times with a fork and place on a foil-lined baking sheet. Bake until softened, 1-1/2 hours, depending on size; let cool.
Slice each sweet potato in half lengthwise. Scoop the flesh into a saucepan and discard the skins. Add the maple syrup (to taste), butter and sour cream. Using a wooden spoon or potato masher, mix until smooth. Season with the salt and nutmeg.
Place over medium heat, stirring occasionally, until warmed through, about 5 minutes.
Most Helpful
I love sweet potato especially when oven roasted and well this just sent it over the moon. I scaled it back for one serve and battled to get through half it with other sides and the salmon I served with it. I used a sugar free maple syrup which made it a diabetics dream with a low fat sour cream and as I used salted butter (though only half the amount) I did not use extra salt. Thaank you JackieOohNo!, made for 123 Hit Wonders.

This is a delicious recipe that makes for a sweet side dish. Once I made the recipe as directed, I added brown sugar, pecans, and nutmeg to the top, and then I browned it in the oven for 10 minutes. Yum!

YUMMY! This is so good! I'm the only person in the family who eats sweet potatoes...but I'm really loving having all these left overs!