Sweet Potato Puree With Brown Sugar and Sherry
Prep 25 mins
Cook 55 mins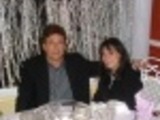 Here is a more grown-up version of a tradtional holiday side dish.
Directions
Preheat oven to 425 degrees. Pierce all potatoes in several places with a fork. Bake until tender when pierced with a knife, about 55 minutes. Cool slightly.
Cut potatoes in half lengthwise. Using a spoon, scoop out potato pulp into a large bowl. Add butter and brown sugar. Using an electric mixer, beat until smooth. Beat in Sherry. Season to taste with salt and pepper. Serve.
Most Helpful
Yummy sweet potatoes! I scaled this down to 2 servings and didn't use a mixer, just beat it by hand. The sherry was a nice touch, balancing out the other flavors. Thanks for sharing the recipe!