Rita1652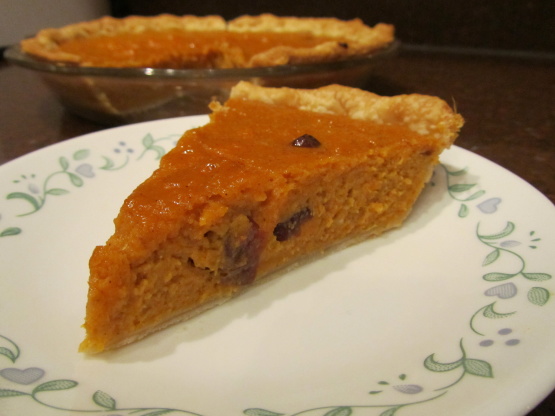 This wonderful pie recipes comes from the December 2004 issue of Better Homes and Gardens, which was given to me in the February 2009 Cookbook Swap my my wonderful friend Tammie. It has a flaky crust and a tasty custardy filling. I luv that everything is made from scratch!

This pie is really good. I served it with whipped cream. I used canned sweet potatoes (1 1/2 regular sized cans drained and mashed). I used almost 7 tablespoons water for the crust. Breaking down the grams, I used 1/4 and a half of 1/4 cups sugar. I meant to use a little less than 1 cup sour cream, but used a full cup instead. (I was afraid my using too much might make it soggy, but it did not.) I also used my food processor to make the pie crust. I have not always been successful with making pie crusts, but this came out really nice and flaky. I like the allspice in the crust. I'll be using this pie crust recipe for other pies as well. I also covered the edge of the crust with tinfoil before baking. Doing it that way I find I don't break the edge like I always did if putting it on after it has baked awhile. I took it off about 15 minutes before it was done. I made this for Veggie Swap. Thank you for contributing this recipe.
For the crust mix flour, sugar, allspice and salt. Work in butter until mixture resembles coarse crumbs.
Add 1 tbs of ice-water at a time and work into dry ingredients using a fork. Push aside moistened dough and continue moistening flour mixture until all mixture is moistened (depending on your flour you will need more or less of the water). Form into a ball and roll out on a slightly floured surface into a circle of 12 inch in diameter. Transfer to a 9 inch pie dish.
For the filling stir together all ingredients and pour into pie dish.
Bake for 40 minutes in the preheated oven at 375°F.