Sweet Potato, Pepper and Eggplant Bake
Tyler W.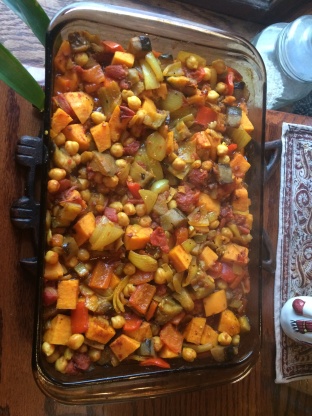 This was described in The Guardian newspaper as being like a roast vegetable curry. Good winter comfort food.

I love this dish. Not the quickest prep time because I used everything fresh from our Michigan farm stands, but worth it. I did leave the coriander out b/c I HATE cilantro and anything derived from it. I also used plain Greek yogurt instead of sour cream and it went well with the flavor of the dish. I even pureed some for my 7 month old!! Thanks.
Preheat the oven to 200 C or 400 degrees F.
Cut one of the onions into large chunks.
Put four tablespoons of the oil into a large roasting dish and add in the onion, sweeet potatoes, eggplant and pepper.
Mix to coat in the oil and bake for 30 minutes, turning halfway through the baking.
Meanwhile, roughly chop the other onion and heat the rest of the oil in a frying pan.
Fry the onion for a few minutes, until soft, then add the garlic, spices and tomatoes.
Cook for five minutes.
Stir in the stock and chickpeas, as well as any sugar, salt and tabasco sauce, to taste.
Take the veggies out of the oven, pour the spiced tomato mixture over top and mix well.
Lower the oven temperature to 190 C or 375 F and bake for another 20-30 minutes, until the veggies are cooked.
Stir halfway through baking.
Just before serving, stir in the fresh cilanto and top each plate with a spoonful of sour cream.
Serve with rice or bread.