HisPixie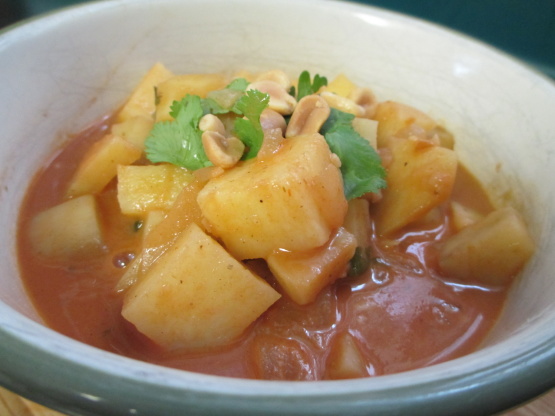 The cayenne adds a nice mild heat while the cinnamon adds warmth and depth. This is a great fall soup! From Woman's Day magazine, with a few added twists of my own.

I get Woman's Day magazine and tried this recipe last week. It was great! The best part was my husband didn't even complain that there was not meat in it. Mine didn't turn out quite like the photo on this page shows, it was more like a caramel colored chili like the original photo in the magazine.
Heat two TBL oil in a large saucepan over medium heat.
Add chopped onion; season with pepper and salt.
Cook onion until tender (8-10 minutes).
Stir in garlic and ginger; cook one more minute.
Add cumin, cayenne, and cinnamon; stir until blended.
Add the sweet potatoes into the pot.
Stir in the crushed tomatoes, creamy peanut butter, and water.
Add cilantro and crushed peanuts.
Bring to a boil, then reduce and simmer, covered, until sweet potatoes are tender (about 25 minutes).
Add more salt or pepper, to taste.