CJAY8248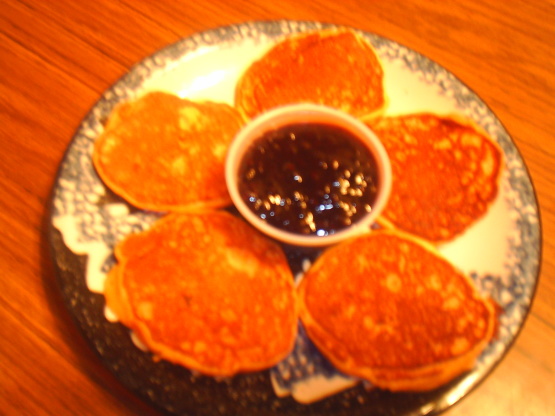 Super yummy & nutritious pancakes which are great for breakfast, lunch or dinner and kids will gobble them up! Double up the recipe so the whole family can enjoy them. Dress them up with fresh fruit, syrup, or jam! Pancakes can be frozen and reheated or toasted for a quick & easy breakfast or snack.

These are great! I like that there is no added sugar. My kids can eat them with just a bit of butter on top and maybe a dash of maple syrup, and I feel better about it than a standard pancake or pikelet (drop scone) recipe. Thanks for sharing this recipe.
Mix mashed sweet potatoes in a mixing bowl with egg.
Stir in the flour and add the baking powder.
Add up to 1/4 cup of milk while stirring.
Stir in 1 tbsp melted butter.
The mixture should have the consistency of thick, lumpy sauce like an "instant" pancake mix. Add more milk, if desired, for a thinner consistency.
Place a non-stick or heavy iron skillet over medium heat on top of the stove and add 1/2 tsp butter. Preheat skillet before cooking pancakes.
Spoon batter into the skillet and cook until bubbles rise to the surface of the pancakes and break (approximately 1 to 2 minutes).
Using a spatula, flip the pancakes and cook another 2 minutes.
Remove pancakes from the skillet and keep warm on a covered plate in the oven.
Freezes Well.