Debbwl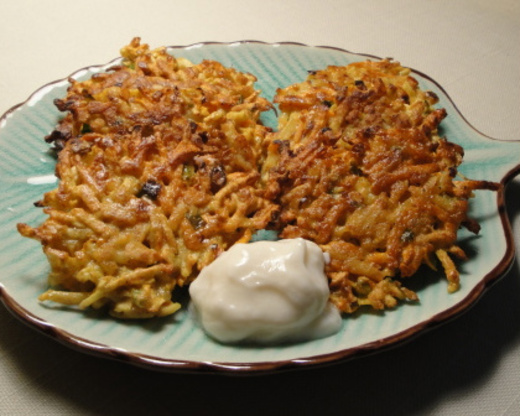 A brilliant variation on regular potato pancakes, this is a great way to get your kids hooked on sweet potatoes. Very tasty served with salsa, sour cream or apple sauce. From Today's Parent.

Yum! I cooked mine a bit longer but, maybe they were thicker than called for. No green onions in house (how weird) so just used minced yellow onion. Rarely add salt to anything and didn't today either. Served mine with sour cream. The DH preferred his just plain. Will definitely make again!
In a large bowl, combine the sweet potatoes, green onions, eggs, flour, salt and pepper. Mix thoroughly.
Pour enough vegetable oil into a large skillet to coat the bottom or use cooking spray. Place over medium heat just until a drop of water sizzles when it hits the pan. Add the sweet potato mixture to the hot oil by heaping spoonfuls about 1 in (2 cm) apart. Press each pancake lightly so that it sticks together. Cook about 2 minutes per side, turning over once, until brown and crisp on both sides and the sweet potatoes are tender right through. (Taste one to make sure they're done.) Remove to a paper-towel-lined baking sheet and place in a 300F (150C) oven to keep warm while you cook the rest of the pancakes.
Serve hot with sour cream, salsa or applesauce as an accompaniment.