DuChick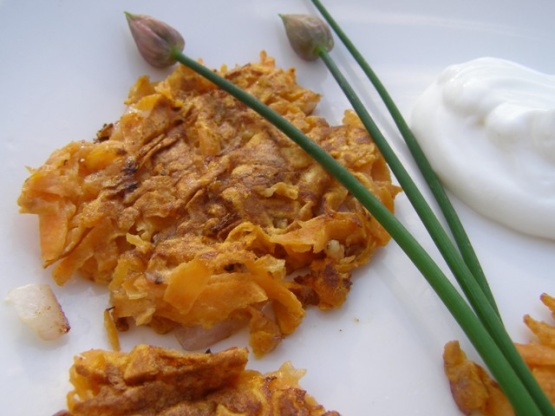 These make a unique side dish at a Thanksgiving feast.

I love sweet potatoes and I really like this new way of eating them! They were fairly fragile to turn in the pan and cooled off quickly, as I found myself still at the stove while my family was eating, so we all were served hot "pancakes". Nice flavor with the nutmeg! Thanks 2Bleu. MERP'd for Photo Tag.
Peel and grate the potatoes and onion. Mix in the egg.
Combine the dry ingredients together and add to potato mixture.
Drop by large tablespoons onto a heated nonstick skillet lightly coated with oil and cook for 3 minutes or so on each side, until pancakes are cooked through.
Serve with apple butter or sour cream and chives.