Sweet Potato Lentil and Lime Soup
robd16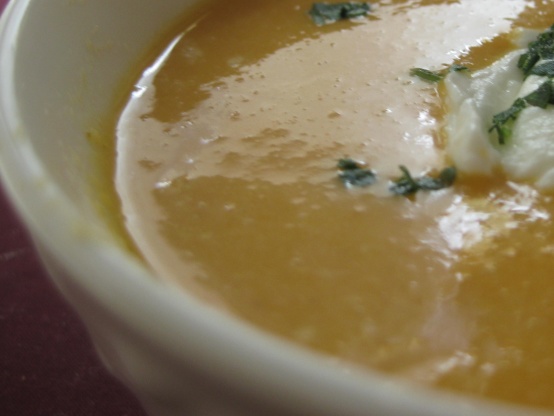 Made for cold weather, this hearty warming soup hits all the right spots. The lime, mint and Greek yoghurt are essentials and compliment the earthy flavours of the garlic, cinnamon. ginger lentils and sweet potatoes perfectly. I've adapted this recipe from Sophie Grigson's vegetable book. Pure bliss in a bowl. . .
Heat the oil in a large pan over a medium heat, fry the onion for a couple of minutes then add the fennel seeds, sweet potato, garlic and ginger.
Reduce the heat to low, cover with a lid and allow to sweat for 10 minutes.
Now add the cinnamon, lentils, chopped tomatoes and the vegetable stock.
Bring to the boil, reduce the heat and allow to simmer for 20-30 minutes until the sweet potatoes are tender and the lentils broken down.
Season with salt and pepper to taste and allow to cool slightly.
Put half of the mixture in a blender and blend well or use a hand blender to break the soup down, but leave some chunky bits.
When ready to serve, reheat the soup, add the chopped mint (reserving some for garnish) and once hot add the lime juice. Take off the heat and taste and adjust seasoning.
Serve in large bowls with dollops of greek yoghurt and a sprinkling of fresh mint.
WOW!