Sweet Potato Gnocchi With Goats Cheese and Wilted Salad
Satyne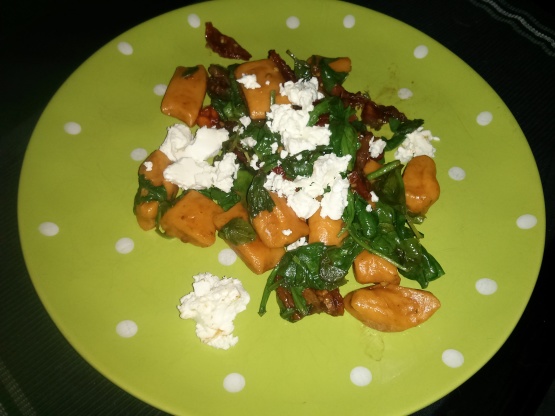 Great use of left over mashed sweet potato. Light and fresh with lots of flavour.

This is very tasty but I'll warn anyone who attempts it that it makes a MASSIVE amount of food! I would suggest making a half-sized recipe. I do feel that the amount on the cheese is quite high. I used a lot less and felt it had plenty. I also used a lot less tomatoes, and soaked them in boiling water before adding them to the pan so they would be soft. This recipe might benefit from the addition of something crunchy... some sort of nut perhaps.
Gnocchi:.
Steam or boil potatoes until cooked through and soft.
Peel potatoes and pass through mouli or ricer, make a well in the centre.
Add flour,nutmeg, parmesan and egg yolks and mix into a soft dough, Adjust seasoning.
Roll into a sausage shape and cut into bite size pieces.
Blanch gnocchi in salted boiling water when gnocchi floats to top its cooked.
Scoop with a spider and refresh in ice cold water then drain.
To serve:.
Heat olive oil in a frypan. Add garlic and tomatoes and balsamic vinegar to the pan, add gnocchi, and toss in pan. Add the greens and allow to wilt slightly, season to taste.
Place in a bowl and crumble the goat cheese over the top.