gailanng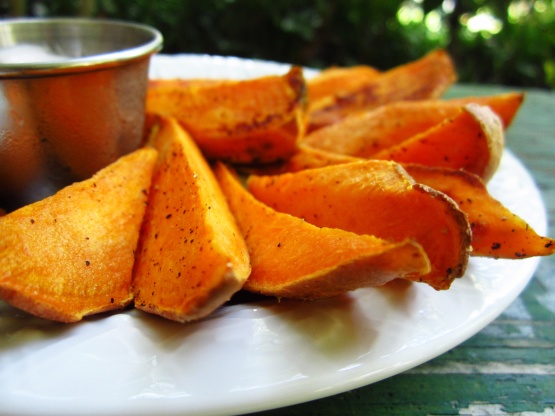 I love this recipe. I made it up from a version I had at a restaraunt. Great for kids too! I choose to dip into ranch dressing. I know it may sound strange, but try it, YUM!

Absolutely delightful! My boys (4 & 1), husband and neighbors all loved them!!! Thanks for the awesome recipe! We cut them thin and they came out perfectly!Really, they were delicious. *UPDATE* - we figured out a way to crisp them up! After seasoning in the bag, dump in a couple tablespoons of cornstarch and shake it up one more time. They'll look funny with all the white powder, but it helps them get crispy! Delicious either way though!
Preheat oven to 425 degrees.
Put cut fries into large ziploc bag with olive oil, put in salt, garlic and cinnamon and shake to coat.
Place fries onto baking sheet leaving space between fries.
Put in oven for 10 minutes and then flip them over.
Place back in for 10 more minutes.
They should be soft on the inside and browned on the outside.
Let cool for 5 minutes.
You may also use regular potatoes or 1/4 packet taco seasoning to alter taste to your liking.