loof751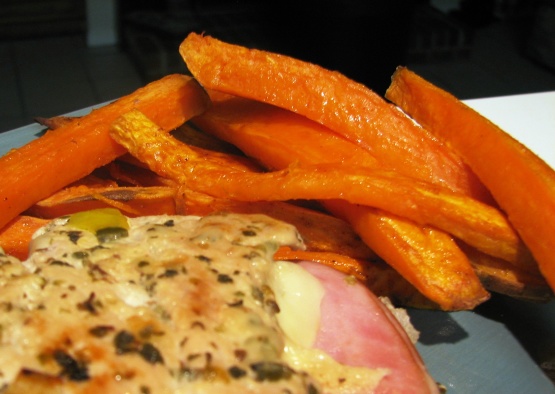 I have long enjoyed making traditional fries from russet potatoes and invented this recipe as a vitamin A-loaded alternative. My 2-year old can't get enough of them! I choose not to peel them (more nutritious), but some people prefer the texture more when they are peeled...
Delicious!! My family loved these quick, easy, and very healthy fries. I baked them, as written, and then stuck them under the broiler for a few minutes to crisp and brown. These were gone in a hurry!! Thank you for sharing this wonderful recipe...it is definitely a keeper!! *Made for Fall PAC 2008*
Slice sweet potatoes into fry-sized strips (~ 1/2 inch square strips going down the full length of the potato).
Toss them in olive oil and lay them out in a single layer on a baking sheet.
Sprinkle with freshly ground sea salt and paprika to taste.
Bake at 350 degrees for approximately 45 min, flipping them all over after 25 minute.
OR broil on low (~ 400 degrees) for ~ 20-25 minute You shouldn't need to flip them, just watch that they don't get too brown.
These taste best when they have just a touch of brown on them, but don't overdo them. They should not be crispy, just cooked and somewhat limp.