Sweet Potato Cranberry Quiche
2CsMom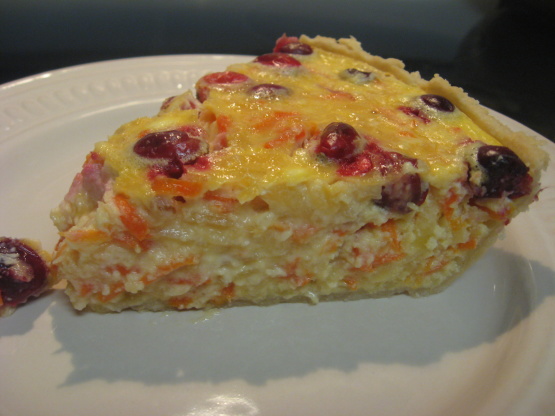 This makes a beautiful presentation, and tastes so yummy (the kids will never know it's got VEGETABLES in it!) A friend passed along the recipe (after we all raved) from a 1978 vegetarian cookbook.

Top Review by 2CsMom
This was easy, and I thought the presentation was beautiful. But it is very sweet and doesn't really taste like a "quiche" at all. However, I've been eating the leftovers and it's really growing on me, so I had to come back and add a star. I think my initial turn-off was that I was looking for something that actually tasted like a quiche and this was more like a vegetable cheesecake. I'm curious to try it again, and cut back on the cream cheese and sugar, and add more egg.
Prepare the short crust (or get your Pillsbury out of the fridge!) Line an 11-inch quiche pan with it, and pre-bake.
Peel the sweet potatoes and carrots and grate by hand or shred in food processor.
Put them in a pot, douse with boiling, salted water, bring to a boil, and cook for 5 minutes.
Drain well.
Wash the cranberries removing soft or brown berries.
Put them in a non-reactive pot with sugar and cook them covered, over low heat for 10 minutes, stirring occasionally.
Remove the lid and cook the berries 5 minutes more, stirring constantly-- you want them soft, but not popped.
Add the potatoes and carrots and cook for 4 minutes more, stirring constantly.
Beat together the milk, eggs, cream cheese, nutmeg and salt.
Stir in the vegetable mixture and pour the filling carefully into the prepared shell.
Bake at 375°F for 40 minutes or until the filling is firm.
Can be made day before and re-warmed.
Can serve hot or at room temperature.