Sweet Potato-Chipotle Pancakes
ChefLee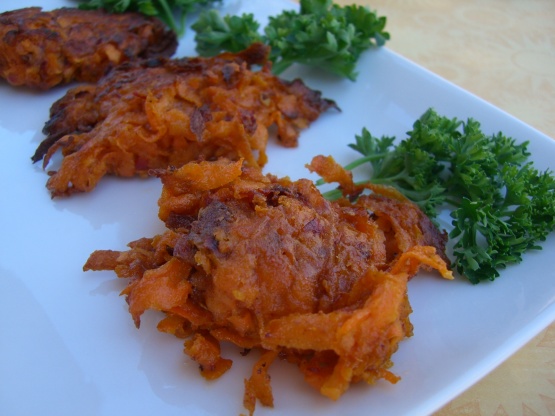 Dorie Greenspan; serve as a side dish with chicken, pot roast, or a meaty fish.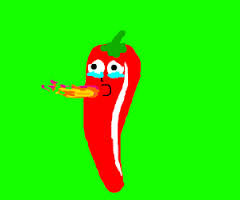 Really super!!!! I have a Dorie Greenspan baking cookbook but I had never tried anything other than baked goods from her. This is perfectly sweet, spicy, crunchy, and flavorful!!! The texture is great!! I cooked the pancakes in the oil at first and then I wondered how they would turn out baked so I baked the rest of my pancakes in the oven. I baked them at 450 degrees F for 20 minutes and they turned out just as good if not better than the fried method!!!! These are really pretty too, loved this recipe!!! Thanks for posting!!
Grate sweet potatoes using the grating blade of a food processor or the large holes of a box grater.
Transfer grated potatoes to a bowl and add in the chipotles, egg, and honey; stir with a rubber spatula to combine.
In a small bowl, whisk the flour, chili powder, and salt together; add the dry ingredients to the potato mixture; stir with spatula just until incorporated.
Pour enough peanut oil to come 1/8 inch up the sides of a large cast-iron or other heavy skillet and heat over medium heat until the oil is very hot but not bubbling.
While the oil is heating, line a baking sheet with a brown paper bag or a triple thickness of paper towels.
For each pancake, drop a rounded tablespoon of batter into the oil and press the cake down with the back of the spoon to create a thin pancake that is about 2 ½ inches across.
Be careful not to crowd the pan—leave about 2 inches of space between the pancakes.
Cook pancakes until they are deep brown and crispy on the undersides, then turn with a wide spatula and a fork and brown the other sides.
Lift the pancakes out of the oil, letting the excess oil drip back into the pan, and place on the brown paper to drain.
Pat the tops of the pancakes free of excess oil with paper toweling and serve immediately, or keep, uncovered, in a 200° oven while you make the rest of the batch.