Sweet Potato Chews for Dogs
loof751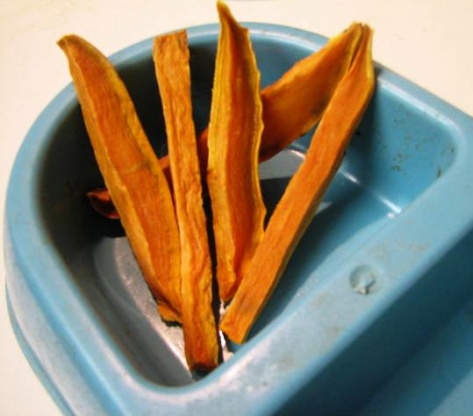 One of my coworkers made these for her Yorkie who just loves them as does my dog, Popcorn. Sweet potatoes are popular in the islands of the Pacific Ocean, spreading from Polynesia to Japan and the Philippines. I wonder whether dogs in those countries have sampled this little treat.

My dog says thank you! I did check on them during the baking process nad flipped them around to get even cooking for all sides.
Preheat oven to 250°F.
Wash the sweet potato or yam (the very orange type).
Cut down the middle lengthwise.
Then cut long lengthwise slices about 1/3 of an inch wide and place on a cookie sheet in a single layer.
Bake in oven at 250 F for about 3 hours.
This leaves them kind of chewy but you could also bake them a little longer to get them crunchy.