Prep 10 mins
Cook 30 mins
I got this recipe from a guy at church who made it for a church dinner. When I tried this I had to have the recipe, it is so good. I hope you enjoy.
Directions
Mash up sweet potatoes.
Mix together sugar, butter, beaten eggs, vanilla, milk, cinnamon, and nutmeg.
Pour into a 9x13 inch casserole dish.
Topping: Mix brown sugar, flour, butter, and chopped pecans.
Put on top of casserole and Bake at 350 degrees for 25 to 35 minutes, until browned on top.
Most Helpful
Made this for Thanksgiving this year and it was big hit. I made it exactly as described except that I double the recipe for the large amount of people who were at my house. :) Sent some home with everybody too. They loved it!
This was very tasty! I made a few small changes. I used brown sugar in the potatoes instead of white sugar. For the topping, I used gluten-free flour (can't eat wheat) and I melted the butter first. My nine-year-old daughter loved it!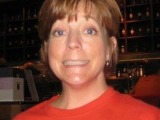 EXCELLENT! I omitted the cinnamon and added 1/2 oatmeal rather than flour to the topping.