Prep 25 mins
Cook 12 mins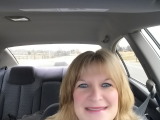 My favorite biscuit by my sweet grandmother. These are delicious. I like to sprinkle a little cinnamon and butter inside when they are still hot. YUM YUM
Directions
Preheat oven to 425.
Stir together flour and brown sugar.
Cut in shortening until coarse like crumbs.
Beat together egg, sweet potato, and milk to dry mixture.
Stir just until dough clings together.
Turn out onto floured surface and knead 10-12 times.
Place on ungreased cookie sheet.
Bake at 425 for 10-12 minutes.
Brush top with melted butter.
Most Helpful
These biscuits had a great texture. We ate them plain at dinner and they were good, but they were better for breakfast when we heated them back up and served them with butter and cinnamon-sugar as suggested! The recipe didn't specify as to rolling and cutting with a biscuit cutter or dropping, so I dropped them onto a baking stone and they turned out fine!

they were really good and easy to make thy were just kinda dry