Annacia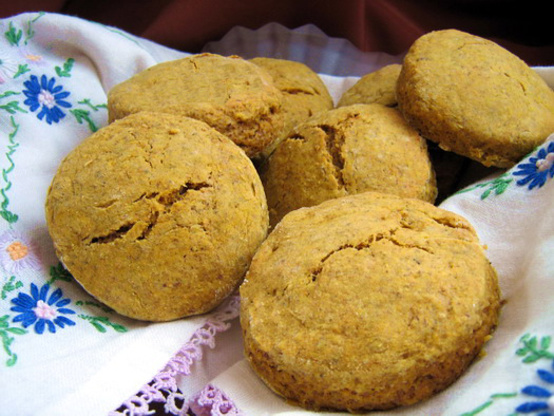 Great way to use up holiday sweet potato casserole for breakfast the next day!

I enjoy sweet potatoes almost any way I can get them 9well except maybe raw!) & a recipe like this is an absolute keeper! Served some with a beet & potato soup ~ wonderful! Thanks for sharing this recipe! [Tagged & made in Please Review My Recipe]
Preheat the oven to 450°F Lightly grease a baking sheet. In a mixing bowl, combine the flour, baking powder, baking soda, salt, and sugar together. Add the butter, and with your hands, work the butter into the flour mixture until the mixture resembles a coarse cornmeal.
Stir in the sweet potatoes and pecans. Add the cream, a little at a time until a soft dough is formed.
Lightly flour your work surface. Place the dough onto the surface and dust the top with flour. Lightly press or roll the dough out to 1/2 inch thickness.
Using a 2 inch biscuit cutter, cut the biscuits into rounds. Place the biscuits on a greased baking sheet and bake for about 15 minutes or until the biscuits are golden brown.