Sweet Potato-Beet Hash (Melissa D'Arabian)
rosie316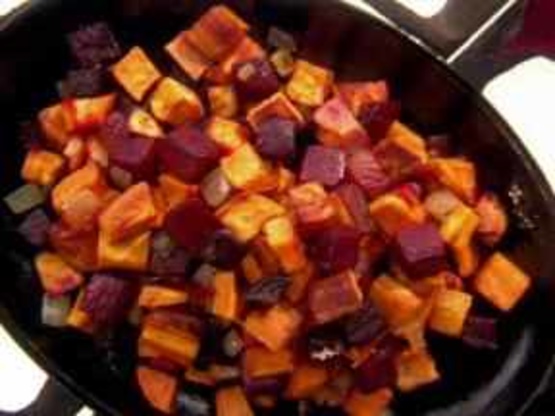 Recipe by Melissa d'Arabian (as seen on Food Network). Made this for my diabetic mother-in -law several times (but I omitted the salt and used low sodium bacon). Hope you enjoy this recipe.

This was great and I'll make it again! I was a bit skeptical at first because the combo just didn't seem to fit - but it melds together beautifully! I didn't read the previous review, and may try the coconut oil next time. I'd also like to try this the next time I'm in the States, as the sweet potatoes we get here are so different - they're white and not all that appealing to look at (though the flavor is good!).
Preheat the oven to 400 degrees F.
Toss the cut sweet potatoes and beets with olive oil and season with salt and pepper.
Place on a parchment-lined baking sheet and bake until vegetables are golden, about 25 to 30 minutes, stirring every 10 minutes.
Meanwhile, in a medium skillet over medium-low heat, add the bacon pieces and render the fat until the bacon is starting to crisp (about 4 minutes).
Add the onions to skillet and season with salt, and continue to cook until the onions start to caramelize and turn golden, and bacon is crisp (about 6-8 minutes).
Add the roasted sweet potatoes and beets to the pan and stir to combine cooking another 5 minutes. Taste and adjust the seasoning, if necessary, and serve immediately.