beckihrh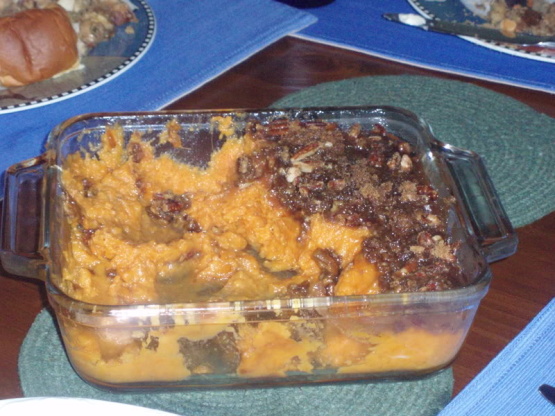 This is our favorite sweet potato casserole. We love the pecans on top. I cook the sweet potatoes the day before.
I made this for Christmas dinner, and it was the best Sweet Potato dish I've ever had. My father-in-law (who loves sweet potatoes) said the topping tasted like candy, and he had triple helpings. It was wonderful!
Beat sweet potatoes, sugar, milk, butter, egg, salt and maple flavoring until smooth.
Put into greased 2 qt casserole.
In small bowl, mix brown sugar, pecans and flour.
Cut in butter until crumbly.
Sprinkle over sweet potatoes.
Bake, uncovered, at 325° for 45 minutes.