Sweet Potato and Pecan Risotto
ihvhope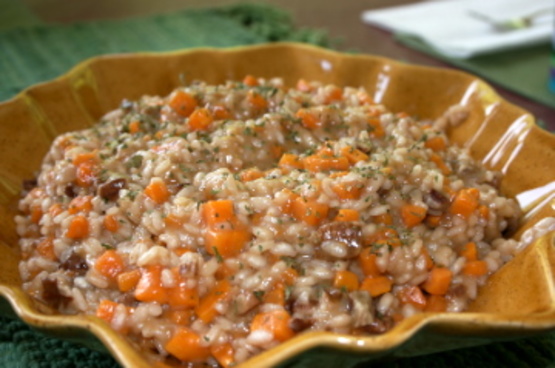 Found this recipe on the Southern Foods website.
Heat vegetable broth to the boiling point; reduce heat to the lowest setting to keep hot.
In a medium saucepan, melt butter; add minced shallot and pecans; cook until shallot is tender.
Add rice and cook, stirring, until well blended.
Stir in sweet potato and about 3/4 cup of the hot broth into the rice mixture.
Cook over medium-low heat, stirring constantly, until liquid is absorbed.
Continue adding liquid, 1/3 cup at a time, stirring frequently, until the rice and sweet potato are tender; do not over cook, the texture should be creamy a little loose, approximately 25 minutes (amount of broth added will be between 2 1/2 and 3 cups).
Stir in Parmesan cheese and green onion or parsley.
Taste test and add salt and freshly ground black pepper as required.