Sweet Potato and Onion Soup
Peter J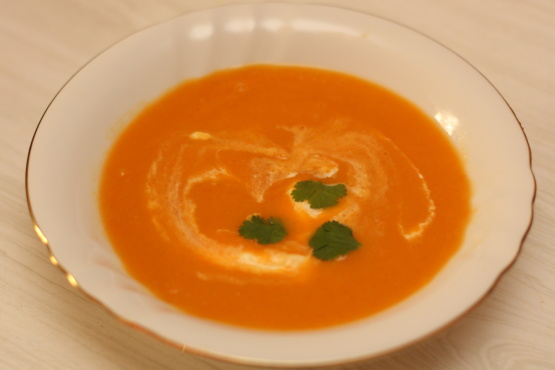 This simple recipe uses the sweet potato with its distinctive flavour and colour as the base for a delicious soup with a hint of orange and coriander. Taken from "What's Cooking : Potatoes" The recipe calls for the soup to be pureed, and the addition of yoghurt. I don't do this as we prefer chunky soups, so in fact, I stop at the end of Step 4! I squeezed fresh oranges for the orange juice.

Top Review by katew
This soup is to die for !! DS said it was a 'cracker' soup - high praise indeed !! I altered not one thing when making this but offered sweet chili sauce swirled on top to the eaters. It is such a beautiful colour and makes a generous amount - thanks KE so much for this fabulous meal.
Heat the vegetable oil in a large saucepan and add the diced sweet potatoes and carrot, sliced onions and garlic.
Saute gently for five minutes, stirring frequently.
Pour in the vegetable stock and orange juice, and bring them to the boil.
Reduce the heat to a simmer, cover the pan and cook the vegetables for 20 minutes, or until the sweet potato and carrot cubes are tender.
Transfer the mixture to a food processor or blender in batches, and process for one minute until pureed. Return the puree to the rinsed out pan.
Stir in the natural yoghurt and chopped coriander and season to taste. Serve the soup garnished with coriander sprigs and orange rind.
NOTE:.
This soup can be served chilled, if preferred. If chilling it, stir the yoghurt into the soup just before serving, and serve in chilled bowls.