Sweet Potato and Mango Bake
Thorsten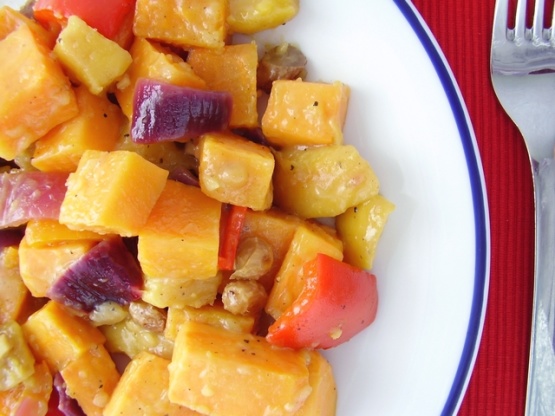 A nice side dish served with savoury chicken and crusty white bread. A nice subtle blending of flavours.

Mmmm. What more can I say? I wanted to take a picture of this beautiful dish but it didn't last too long. Thanks!
1

tablespoon butter, softened to grease pan

2

large sweet potatoes, chopped 2-inch pieces

1

large sweet onion, chopped 2-inch pieces
1⁄2 cup orange bell pepper, sweet, chopped 2-inch pieces (may sub with yellow pepper)
1⁄2 cup red sweet pepper, chopped 2-inch pieces

1

teaspoon fresh ginger, minced
1⁄8 cup golden raisin, cut in half

1

cup mango, chopped 2-inch pieces
1⁄2 teaspoon sea salt
1⁄2 teaspoon pepper, freshly ground
1⁄4 teaspoon nutmeg, freshly ground
1⁄4 cup brown sugar

2

tablespoons flour

1

cup mango juice or 1 cup orange juice

2

tablespoons white vinegar

1

tablespoon unsalted butter, diced
Preheat oven to 350°F.
Grease pan lightly with butter.
In a large bowl, toss sweet potatoes, onions, orange and red peppers, ginger, raisins, mango, salt, pepper and nutmeg together and place into prepared pan.
Next mix the brown sugar and flour together, then the mango juice with the vinegar.
Now mix the sugar mixture with the juice mixture and pour over the vegetables.
Dot with the diced butter.
Cover and bake in a 350°F oven for 1 hour.