Sweet Potato and Lemon Salad
Debbwl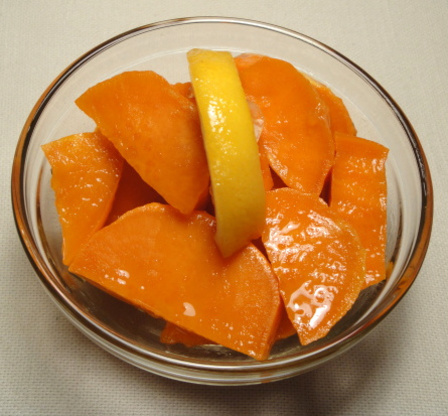 This is my translation of a yummy salad I've had cooked for me a couple of times by a young Japanese girl who lived with us. I wish you could see the original.

This is very similar to a Japanese recipe sweet potato recipe I make, but I think this is a better version because the liquid is reduced, and I will be switching to this one in the future. The sweet potatoes are good hot, as well as at room temperature. I'd recommend using organic lemons if you can possibly get them, as conventional ones may have pesticides on them.
Peel the sweet potatoes, and slice lengthways.
Cut into 1cm half moons.
Do the same with the un-peeled lemon.
Place all the ingredients in a saucepan with almost enough water to cover.
Bring to the boil, and then reduce the heat and simmer (don't cover the saucepan) until most of the liquid has boiled away and the potatoes are soft.
Cool to room temperature and serve.