Sweet Potato and Goat Cheese Tortilla
day-hee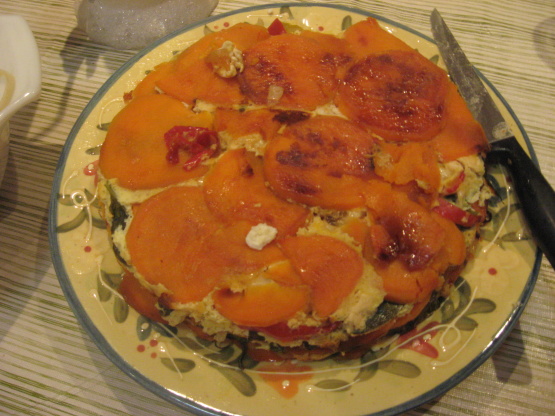 A lovely vegetarian main course even for Christmas. To get ahead: Make the tortilla the day before. Cool in the tin, cover and keep chilled. To serve hot, turn out the tortilla, slice and lay flat on a lightly greased baking sheet. Cover with foil and reheat in a hot oven for 10-15min.

I can't really comment on the actual procedure of making this dish, but my family has made it for the past two years for Christmas Eve dinner, and it is absolutely delicious! My sister said that it's fairly simple to execute, but is quite time consuming. Definitely one to keep.
Preheat the oven to 425°F Put the potato in a large roasting tin, season and drizzle over half the oil. Toss well.
Put the peppers, fennel, garlic and onion in a second tin. Season, drizzle over the remaining oil and toss well. Put both tins in the oven and roast for 30-35min or until the vegetables are tender.
Whisk together the eggs, cream and cheeses and season with plenty of coarsely ground black pepper.
Line the base and sides of a 8in round, 3in deep cake tin with non-stick baking parchment.
Reduce the oven temperature to 325°F Layer the roasted vegetables in the tin with the spinach, adding a little egg mix as you go. Pour in any remaining egg mix and cook the tortilla in the centre of the oven for about 1hr 15min or until the egg is set and the top golden.
Serve warm or cold.