Sweet Potato and Chickpea Curry
Prep 35 mins
Cook 30 mins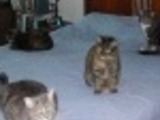 Recipe of the week in "The Week" magazine (heehee). Originally from the NY Times. Easy to make (e.g., some of the hard-to-cut vegetables are processed in a blender or food processor, and don't be put off by the no. of ingredients; they are mostly dried spices) and also ideal as a leftover served atop a thick piece of sourdough toast as per Nigella Lawson. Update - I made this the other night, and it was very tasty with lite coconut milk. I plan to make this again soon:D
Directions
Chop the onions if using a blender.
In food processor or blender, combine onions, garlic, hot pepper and ginger. Pulse until finely chopped.
Pour oil into large saute pan over medium-low heat. Add chopped onion mixture and saute until softened, about 5 minutes.
Add hot pepper flakes, ground ginger, ground coriander, cumin, turmeric, cardamom, and 1/2 teaspoon salt. Stir to mix. Add sweet potatoes and stir until well covered in spices. Stir in coconut milk.
Dissolve tamarind paste in hot vegetable broth and add to pan. Bring to boil, reduce heat and simmer, partially covered, until sweet potatoes are just tender, about 30 minutes or more. Taste potatoes to make sure they are cooked all the way and allow additional cooking time of necessary.
Add chickpeas and simmer until heated through, about 5 minutes. Adjust salt to taste. Transfer to bowl and sprinkle with chopped cilantro. Serve with white rice if desired.
Reviews
Most Helpful
This made a nice light, quick meal. I didn't have tamarind paste so I substituted tomato paste, and added a chopped tomato as well. Next time I would add more veggies, like carrots and/or spinach. It wasn't super filling but had a nice kick to it and pretty good flavor. Overall I would say it was good, not great.
This is a tasty recipe. I took a simplified approach whereby I combined all the spices, the onion, garlic, tamarind and ginger in a food processor to make a paste. I sauted the sweet potatoes a bit in the paste, and added some red bell pepper slices as a substitute for the chickpeas (I was making a different chickpea curry that night, too). Then I just added the coconut milk and let simmer. I didn't bother with the broth, just added milk if more moisture was needed. The color of the curry left a bit to be desired, just kind of a drab brownish, but overall, a tasty curry.

I was so scared to try this recipe - as I am not a big fan of meatless dishes. However, it was fantastic! Very filling, as it is really starchy when paired with rice. However, I really enjoyed it, and so did my bf! Thanks!