Sweet Potato and Carrot Crumble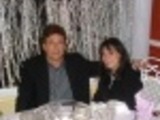 Everyone will love these veggies! You can also add miniature marshmallows to the top.
Directions
Preheat oven to 350 degrees. Coat 2-quart baking dish with cooking spray. Toss potatoes, carrots and shallot with 1/4 cup melted butter, 1/4 cup brown sugar, 1/4 t. cinnamon, 1/8 t. nutmeg, salt and pepper.
Transfer to baking dish; cover. Bake 40 minutes or until potatoes and carrots are tender.
Meanwhile, mix flour, pecans, remaining brown sugar, cinnamon and nutmeg; stir in vanilla and remaining butter until crumbly. Top vegetables with crumb mixture. Bake, uncovered, 15-20 minutes or until lightly browned.
Reviews
Most Helpful
I loved this.. it took a little longer to cook, about 60 minutes, for the potatoes to cook all the way through. The crumble topping really made it!

OH ~ this is just FABULOUS !! I used one giant sweet potato and some julienne (pre-packaged) carrots I needed to use up. What wonderful flavors and the smell wafting from the oven kept DH hanging around :) This was really easy too. We enjoyed this dish with chicken breasts marinated with white wine and roasted garlic and a green salad. KEEPER for sure! Thanks JackieOhNo! Made for HOLIDAY TAG, August 2009.