Sweet Potato and Black Bean Enchiladas
Was wanting a vegetarian mole enchilada and this is what I came up with.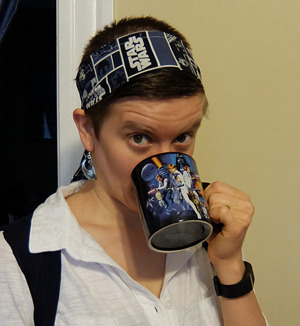 Oh. My. Goodness. Making this was a comedy of errors, for me -- I didn't have cilantro, then I ran out of chili powder, then I had the recipe half-made and waiting in the 'fridge and didn't have the time/energy to finish it. Finally, a week later, I got around to assembling the darn thing, and let me tell you, it was 1000% worth the time and effort (which are non-trivial, true story). We had one enchilada each with a side or roasted veggies and some fruit salad, and it was delicious, filling, and satisfying. So, so good. This is going to become a frequent flyer in our household! Thank you so much for posting it. <3
Filling

1

(15 ounce) can black beans, rinsed, drained

4

garlic cloves, minced

2

cups sweet potatoes, cooked, and diced
1⁄2 cup mild green chili, roasted and chopped
1⁄2 teaspoon ground cumin
1⁄2 teaspoon chili powder

2

tablespoons fresh cilantro, chopped

Sauce

1 -1 1⁄2 cup mole, sauce (Mole Sauce (Chocolate Based))

Assembly

2 -4

tablespoons vegetable oil, as needed

4

ounces low-fat monterey jack cheese, shredded
Preheat your oven to 350°F Choose a baking dish that would hold 8 rolled enchiladas.
Using a mixing bowl, combine the drained black beans with minced garlic and lime juice. Toss to coat the beans and set aside. In a separate bowl combine the cooked sweet potatoes with the chopped green chiles; add the spices. Season with salt and pepper.
Pour about 1/4 cup of the mole Sauce into the bottom of the baking dish.
To assemble the enchiladas, grab a skillet and heat a dash of oil. Lightly cook the corn tortillas to soften them, one at a time, as you stuff each one.
Lay the first hot tortilla in the sauced baking dish; wet it with the sauce. Spoon 1/8 of the sweet potato mixture down the center. Top with 1/8 of the black beans. Wrap and roll the tortilla to the end of the baking dish. Repeat for the remaining tortillas. Top with the rest of the sauce. Top with a sprinkle of shredded Monterey Jack cheese.
Bake for 20 to 25 minutes, until the enchiladas are piping hot and the sauce is bubbling around the edges.