Sweet Potato and Apricot Puree
KateL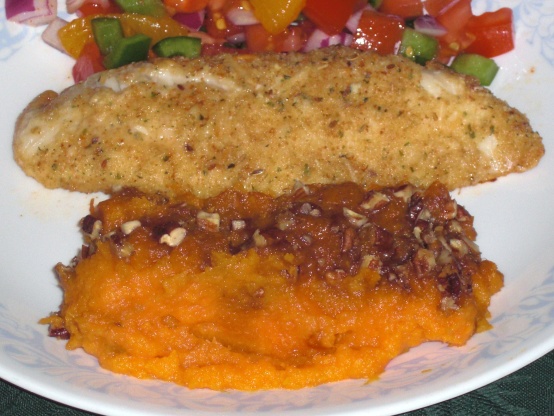 These sweet potatoes are slightly tart - the addition of dried apricot puree is a unique and delicious twist. This recipe comes from Gourmet magazine (Nov 1994)

Top Review by KateL
We thoroughly enjoyed this sweet potato and apricot combination; it might be even better using orange juice instead of the apricot water. It wasn't too sweet, although I think the salt could be omitted entirely and the brown sugar could be cut in half to make it healthier. Thanks for sharing this recipe, appleydapply! Made for Top Favorites of 2008 Tag as HPH prize for Tagging Out Player happynana as Frog #6.
Preheat oven to 450°F.
Prick potatoes and bake in middle of oven for at least 1 hour, or until very soft. Allow to cool and then scoop flesh into a bowl.
In a saucepan cover apricots by 1 inch with cold water and simmer until soft, about 30 minutes. Reserve 2 tablespoons of the cooking liquid and drain apricots.
Puree apricots in a food processor with the granulated sugar and reserved liquid, until smooth.
Add puree and salt to potatoes. Beat with an electric mixer until smooth. Spread mixture into a greased shallow 2-qt baking dish. (Note: Puree may be prepared up to this point 1 day ahead and kept chilled and covered).
Reduce oven temperature to 400.
In a small bowl blend remaining ingredients (flour, brown sugar, butter, pecans, and dash salt) with your fingers until combined well. Sprinkle over puree. Bake in oven until heated through and topping is bubbly, about 15 minutes.