Sweet Potato and Apple Salad
Debbwl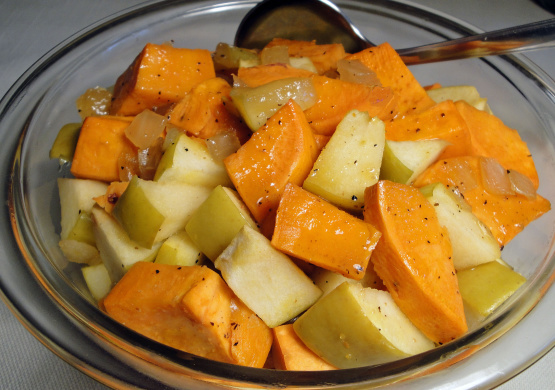 A wonderful side dish / salad to serve either straight from the oven or to let come to room temperature for serving. Makes it a wonderful choice during a dinner party since it can cool and still be a delicious. Found in an old Cooking Light magazine. Servings are 1/2 cup in size (I have edited this recipe to reflect a better perception of servings based on reviews)

This was really delicious, and it as nice to be able to make this early, before the duck went into the oven. I might add some ginger or nutmeg next time, just to add a little something, but I did like it just as it is. I did not cover the dish after the apples went in, and I loved that the apples did not cook to a mush - had just a bit of bite left to them. My one concern is about the number of servings. I had a 1 lb sweet potato, so I halved all the rest of the ingredients. This should have been around 5 servings, I think, but two of us polished all of it. Now, it was a bit more than 1/2 cup for each of us, but with the largish cubes of potato, it's hard to keep to 1/2 cup. So if you are making this for a group, I would suggest that you might consider making more of it. Oh, I did not want to go back to the store to get a sweet onion, so I chopped a regular onion, then put it in a bowl and covered with boiling water. Let it stand 10 minutes, then drain thoroughly. This makes the onion more mild, less bite to it.
Preheat oven to 350°F Wash, peel and cube the sweet potatoes (1 1/2" cubes).
Combine potatoes and onion in a 13x9" baking dish.
Combine sugar, orange juice, oil, lemon juice, salt and black pepper in a small bowl. Then pour this over the potato mixture - tossing well to coat.
Cover baking dish and bake at 350F for 30 minutes (stir occasionally).
Wash and cube the Granny Smith apples (1" cubes). Stir in the apple cubes to the casserole and then bake covered an additional 15 minutes or until apple is tender.
Uncover dish and bake an additional 5 minutes.