Sweet Potato and Apple Hash
Anne H.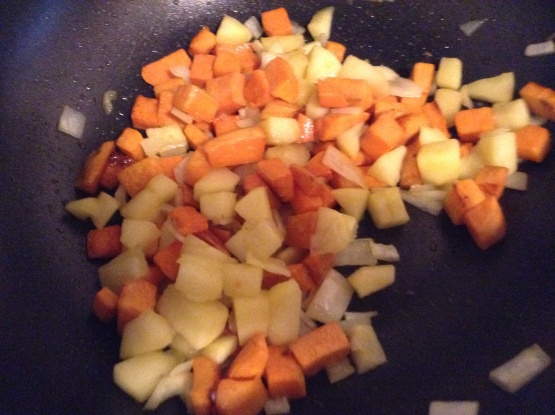 The flavors of Fall come together in this tasty dish! Also super easy to make with only five ingredients.

Was very good. Added Cinnamon. Used 3 small sweet potatoes, half a small onion, and 1.5 good sized apples. I used honey crisp and they worked well. Needs more than just a sprinkle of salt. I added at least a 1/2 to 3/4 teasp.
Pre-heat oven to 425 degrees.
In a bowl toss sweet potato with olive oil (enough to thoroughly coat). Arrange in a single layer on a baking sheet and roast for 10 minutes or until they're just tender but not over-cooked.
Coat a skillet with olive oil (just enough to cover the bottom), add onion and apples and sprinkle with salt. Cook over medium heat until the apples start to become tender, stirring occasionally (about 4-5min but this will depend on the type of apple you use).
Add sweet potato and cook a few minutes longer to let everything get cooked through and let all those fall flavors come together! Remove from heat and serve.
This is good just as it is but you could also garnish with nuts or add a protein to make it a complete meal.