Jillster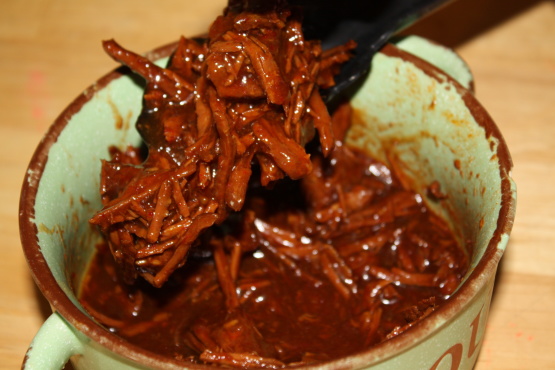 Slow-cooked pork tenderloin in a very sweet, spicy, smokey, Mexican-inspired sauce. Super easy. Cooks in a crock pot. Great in tacos, burritos, enchiladas, and salads!

This recipe is ok, but very very sweet! My husband didn't like it at all, but he is not a fan of the sweet and savory combination as I am. I thought it was good, but liked it better on baked potatoes than in tortillas. It seemed too sweet for Mexican food; however, the potato was reminiscent of a BBQ spud, and mellowed the sweetness.
1 2⁄3-5 lbs pork tenderloin (buy the leanest looking one you can)

20

ounces Pepsi (not diet)

1

cup brown sugar

7

ounces chipotle chiles in adobo (will only be using the sauce, which provides the spicy and the smokey flavors)

1

(10 ounce) can enchilada sauce (I use Old El Paso)

1

teaspoon dry mustard

1

teaspoon cumin
Dump peppers into a mesh sieve or strainer, and then holding the sieve over your crock pot, pour the Pepsi through them to get all that delicious sauce into the pot. Discard peppers.(I know it seems like a waste, but adding the peppers will make it too spicy. This small amount of sauce is perfect for the recipe.).
Add remaining ingredients and then stir until combined.
Trim as much visible fat from the pork as you can.
Add the meat to the crock pot.
Cook on high for 5 hours.
Shred the pork with two forks and then lower the temperature to low, and cook an additional 3 - 4 hours, until the meat is a nice mahogany color.