Sweet Petite Tuna Melt Peppers
WiGal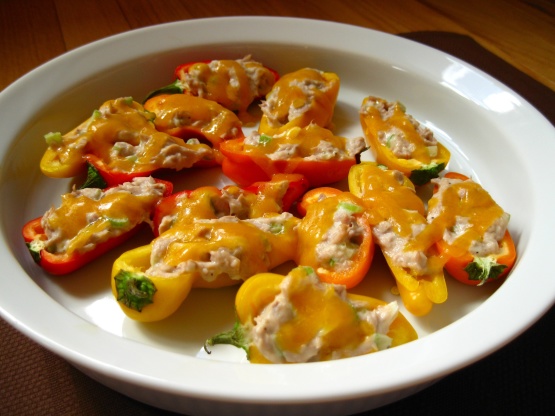 What an amazing low-carb twist on tuna melts. I was astonished at the fact the sweet peppers make perfect little placeholders for the tuna, they cook nicely in the oven, as soon as the cheese melts, you are ready to serve these up. Very easy, convenient, and healthy for Southbeachers, low-carbers or anyone wanting a new twist to your tuna melt.
Preheat oven 350 degrees,cut and clean peppers, cut in half lengthwise.
Mix the remaining ingredients into a bowl.
Spoon tuna salad onto pepper halves, should make 12 with possibly some left over.
Take 1 tablespoons of cheese and sprinkle over each tuna pepper.
Bake in oven for 10 minutes or until cheese has completely melted.
Serve on devilled egg platter, add olives or mixed greens in center for decoration if you like, not required for this dish.