Sweet & Peppery Jerky "sludge"
rosie316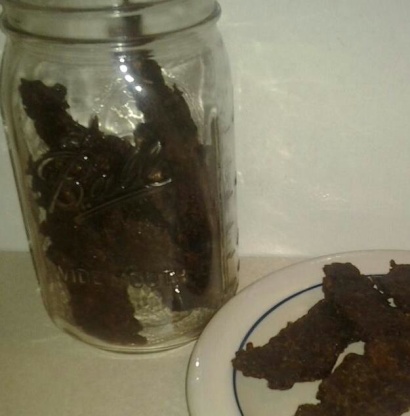 For meat or fish. This mixture will be very grainy and stiff. It liquifies somewhat overnight. My husband and I have been experimenting with this for the past 3 weekends, and this is the recipe we're sticking with! We have done trout and venison, and have used the smoker and the dehydrator. We do very large batches of jerky and store in the freezer in vacume packs. If you like spicy, add the optional red pepper flakes! Cooking time does not reflect the marinating time.

I decided to try this recipe to rid our freezer of venison (to make room for this coming season). Well, I asked hubby to slice up a chunk for me to make the jerky. I let it marinade over night. Our smoker is out of commission right now, and I don't have a dehydrator, so I put the slices on a broiler pan and put it in the oven on 170*F for approx 3 hours +/- (flipping once). It was so yummy! We (and our friends) enjoyed it very much. I normally make "ground" teriyaki venison jerky (which is similar to this recipe), but this is much sweeter and peppery than mine. I actually had hubby grab another hunk of meat to slice, marinated that the next day, and started another batch, but this time it smelled weird while baking. Well, turns out that he grabbed a chunk of frozen "bear" (yes, he got one of those last year). Needless to say, even tho it smelled 'icky' while cooking, the flavor was terrific and it didn't smell after it was cooled. Thanks for posting a very nice recipe. Now I have several jerky recipes to use.
In large bowl combine all ingredients until thoroughly mixed. This will build muscle! (I use my stand mixer.).
Slice meat thinly, about 1/8 to 1/4 inch. Fillet trout, leaving skin on. If using beef, it is easier to slice thinly while still partially frozen.
Smoosh a thin layer of the sugar mixture into bottom of a baking dish and lay meat slices or fish fillets over.
Keep layering, ending with the last of the sugar mixture. Don't worry if all the meat isn't completely covered. The marinade will liquify somewhat overnight.
Cover with plastic wrap and refrigerate overnight, 12 hours.
Next day rinse meat very lightly, just to get the chunks off, leaving a sugary glaze.
FOR DEHYDRATOR:.
Place meat on trays and dehydrate 160* for approximately 6 hours, checking for desired doneness at about 5 hours.
FOR SMOKER:.
Allow meat to dry and form the pellicle uncovered in the refrigerator for approximately 2 - 4 hours.
Place in smoker and smoke for approximately 4 hours, checking for desired doneness at about 3 hours.