Sweet Onion Mango Chutney
HuldaW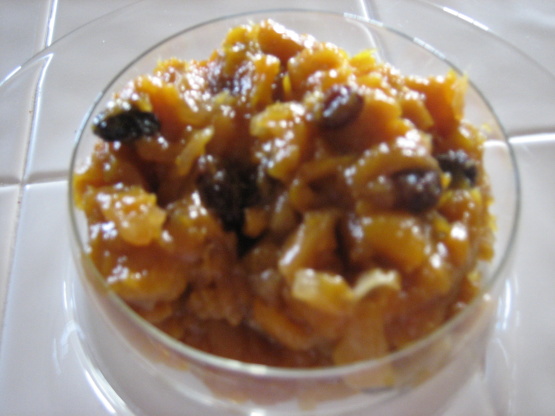 A great accompaniment to all varieties of Indian curries. I use dried mangoes which are easier to find and much more convenient to work with. Sweet onions are a great addition and add to depth of flavor.

I made only half a recipe, just to see how this one would taste, before doing the full batch! Well, I wish I'd done the whole thing, 'cause this chutney is VERY TASTY, even after I cut back on the crushed red pepper a little! Fortunately I have friends who will also love it, & I already have it included in my Holiday Gift Ideas cookbook! Thanks for posting your recipe! [Tagged, made & reviewed as part of my CHUTNEY theme in the current My-3-Chefs cooking event]
Coarsely chop dried mango. Coarsely chop sweet onions. Force garlic cloves through press. Combine all ingredients in large heavy pot and simmer 2 1/2 to 3 hours (less time means chunkier consistency. Stir often to keep from scorching on bottom of pot.
Spoon hot chutney into sterilized jars and put canning lids on loosely as will seal tightly as cools. Will keep for quite a long time. Store in refrigerator.