Sweet Onion & Apple Upside Down Cake
Rita1652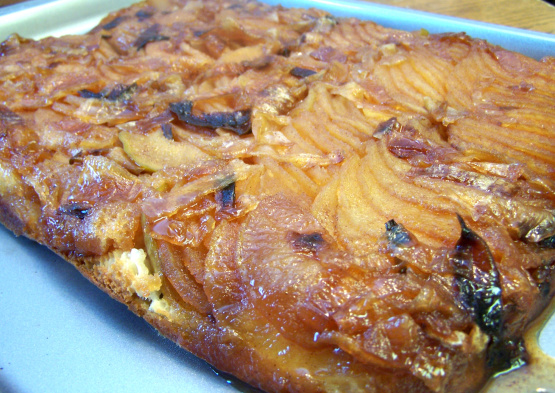 I was intrigued when I saw this recipe and found it really good! Be sure to use SWEET ONIONS for they are not overpowering like the storage onions. They become nice and chewy and very sweet when baked. Yes it's a heart-healthy cake making it a lovely dessert for Valentines days. Sweet onions, sometimes referred to as "short day" onions, because their growing season occurs during the fall and winter with harvest usually in spring /summer, are fresh onions, picked and cured for a short time, then sent to market. Unlike storage onions, are harvested in late summer and fall, stored in warehouses and delivered to markets throughout most of the year. The batter is yolk-less and is very light.

I made this with high hopes, but it just wasn't for me. It's kind of like eating dinner and dessert all in one. Thanks, but I don't think I'll be making this one again. ~Amy
cooking spray, Nonfat

1

medium sweet onion, peeled and sliced into one inch strips (Bermuda, Maui Sweet, Walla Walla, Texas Sweets, Vidalias, Carzalia, Sweet Imperial)

8

granny smith apples, peeled and sliced into 1/8-inch slices
1⁄3 cup canola oil (extra light olive oil)
3⁄4 cup brown sugar, packed
1⁄2 teaspoon cinnamon

Batter

4

egg whites

1

cup all-purpose flour, sifted
1 1⁄2 teaspoons baking powder

5

ounces nonfat milk
3⁄4 cup granulated sugar, plus

2

tablespoons granulated sugar
Preheat oven to 350 degrees.
Liberally spray 2 baking sheets with nonfat cooking spray. Place onions on one baking sheet and apple slices on the other. Bake onions until caramelized, for about 1 hour. Bake apples for about 4-5 minutes; remove from oven and set aside.
Heat oil in a 10-inch skillet add brown sugar and cinnamon. Stir until dissolved. Remove pan from heat, add caramelized onions and set aside.
In the large bowl of an electric mixer, beat egg whites until foamy and add flour, baking powder, milk and sugar until well incorporated. Spray a 9x13-inch baking pan with nonfat cooking spray. Layer brown sugar-onion mixture in prepared pan. Place the sliced apples over the onions. Press down to fill gaps between the apples. Cover with batter and bake about 45 minutes or until center tests clean. Remove from oven and cool to room temperature. Reverse the pan onto a serving tray and lightly dust with confectioner's sugar.