Sweet Oatmeal Bread (Abm, Bread Machine)
racrgal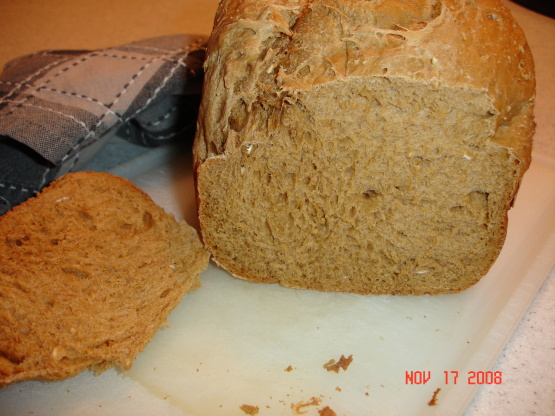 From: BREAD MACHINE MAGIC by Linda Rehberg and Lois Conway. Recipe is for 1 1/2 Pound Loaf - for 2lb Loaf use amounts in ( ).

Liked the texture, but found the molasses gave it a very distinct flavor. As a bread and butter bread, this would get 5 stars from me. As a sandwich bread I'd give it 2-3 stars because I don't think the molasses flavor would pair well with meat or mustard. Thanks for sharing!
Use the least amount of liquid listed in the recipe!
Place all ingredients in bread pan, in the order recommended by your brand of machine.
Select Basic/Standard and Light Crust settings; Press Start.
Observe the dough as it kneads; After 5 to 10 minutes, if it appears dry and stiff or if your machine sounds as if it's straining to knead it, add more liquid 1 tablespoon at a time until the dough forms a smooth, soft, pliable ball that is slightly tacky to the touch.
After baking, remove from pan and cool for one hour before slicing; great toasted!