Sweet 'n Spicy Louisiana Pork Roast
Prep 20 mins
Cook 1 hr 40 mins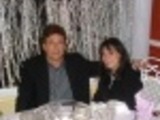 Coated with an aromatic spice and brown sugar rub, this extra-succulent recipe roasts right alongside sweet Vidalia onions. Make sure you use dark brown sugar, though. Your kitchen will smell divine while this is roasting!
Directions
Preheat oven to 350 degrees. In bowl, combine brown sugar, thyme, mustard, allspice, garlic salt, chile powder and cumin; reserve. Toss onions with 2 T. oil; stir in 1 T. spice mixture and toss well.
Combine remaining spice mixture with remaining 1 T. oil; rub evenly over top and sides of pork. Place pork in large roasting pan; arrange onions around roast.
Roast, stirring onions occasionally, until meat thermometer inserted into thickest part of pork away from bone registers 160 degrees, about 1 hour and 40 minutes. Let stand 10 minutes before slicing. Sprinkle onions with chopped cilantro and serve.
Reviews
Most Helpful
This was ok. Being from Southwest Louisiana in the heart of Cajun country, I have to say this is not really a Cajun dish. I don't think I would make it again. But, to each his own. :)

This was very delicious. My Cajun DH and I couldn't figure out which part of Louisiana this represents, though. Definitely not the swamps! This is more in line with Creole food, very refined and French. I used about 3 pounds of boneless pork loin, which cooked much quicker than the bone-in roast suggested. Thank goodness for probe thermometers! I also used 1015 onions, being in Texas, and I think I should have used about half as much! :) Thank you for posting. DH and the kids said this was "a winner" so we will definitely be cooking this again! Made for ZWT5, for the GroovyGastroGnomes.

I used two 2 1/2lb. tenderloins, kept everything else the same and this was GREAT! It was so tender and the onions cooked down in the wonderful juice and were perfect to eat on their own. MERP'd for ZWT5. Thanks for sharing this recipe.