Sweet "n" Spicy Drumsticks
Nif_H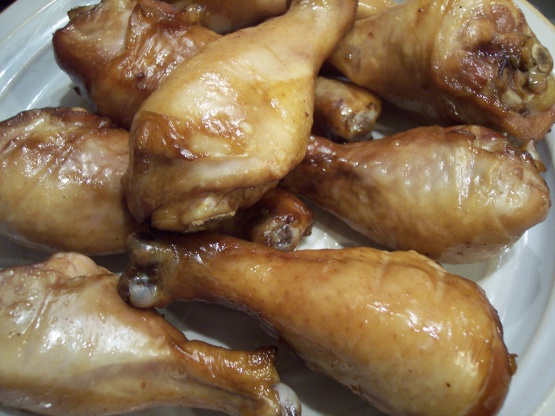 From Huey's Cooking Adventures. Times are estimated but to be honest I would be cutting the honey back to about 2 tablespoons from a 1/2 cup due to diabetic reasons but otherwise happy witht he recipe, he posted as a kids like recipe so servings are for 4-6 kids but I would say 3-4 adults Serve just the drumsticks as an appertizer or at a picnic could be good too.

Top Review by Tisme
Such a simple and easy recipe to make.
Not too spicy at all, the only thing I would change next time, (and not the recipe's fault at all) is that I used gluten free soy sauce, and it was very salty, so I think I will need to find a GF sauce that is less salty or better still salt free, although the salt had no negative outcome on the taste of the chicken, the chicken was fantastic!
Thanks Pat, for a great recipe I will use again.
Preheat oven to 180°C.
Mix together hoisin, soy, honey, ginger and garlic and add the chicken drumsticks and toss well to coat.
Put a sheet of baking paper/parchment onto 1 ot 2 baking trays and place drumsticks on top (in one layer).
Spoon a little sauce over the top of each drumstick/leg and cook in oven for about 20 to 30 minutes until cooked through, turning once.
Heat oil in a wok (or large non stick frying pan) and briefly toss snowpeas until tender.
To serve, mound snowpeas on individual plates and top with chicken, cooking juices and spring onion.