Sweet N' Spicy Chicken Wings
ImPat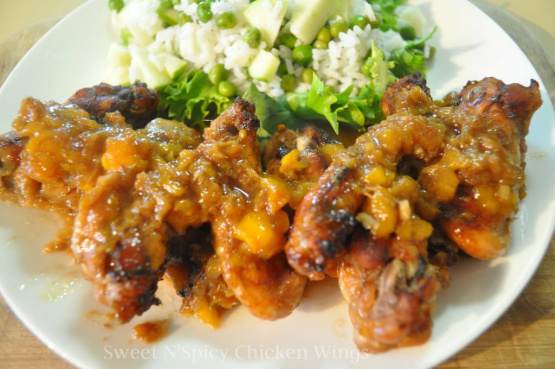 We love to snack on chicken wings and this fruity version - using dried mango - is really good! Prep time does not include marinating time.

Top Review by ImPat
I did have some issues as far as the food processor went but very glad I did, my mini was to small and my regular to big so ended up with a chunky mix (mainly mango) but after baking it in the marinade it made such a good sauce and would be fantastic served over rice, have some wings left over so will look forward to how they taste cold (like to do have extras to see if they would travel well for a picnic). Thank you evelyn/athens, made for I Recommend tag game and recommended by pammyowl.
Rehydrate dried mango by placing the pieces in a small bowl with the hot tea and leave until tea has cooled completely.
Combine all marinade ingredients (including mango and tea) in a mini-processor and blend to make a fairly-smooth puree (it will not be completely smooth).
Put chicken wings in a large ziploc bag and add marinade. Seal bag and massage marinade into chiciken wings. Refrigerate wings 8 hours or overnight. Remove from refrigerator 20 minutes before baking.
Preheat oven to 375°F Empty chicken wings into a 9 X 13 inch baking dish. Bake for 1 1/2 hours, turning over after 1 hour and basting with marinade.
Enjoy!