Sweet 'n Sour Stuffed Cabbage Rolls ("golumbke")
twissis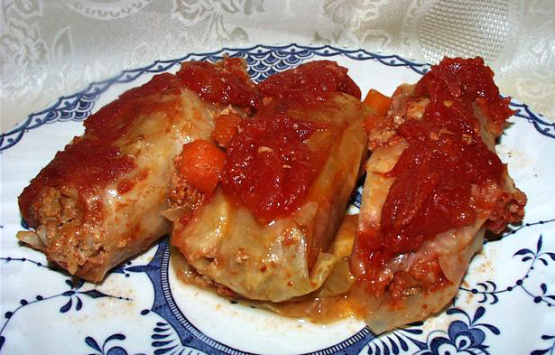 The ingredient list is daunting, but the results are well worth the effort. My friend Alice gave me this wonderful adaptation of a traditional Eastern European recipe. Gingersnaps in the sauce make this a cut above my hubby's Polish grandmother's "Golumbke". When served with mashed potatoes, crusty bread, and a fruit salad or vegetable of your choice you will have the ultimate in comfort food! (5/28/07: I have increased sauce quantities, since amount of sauce needed varies on how much cabbage is stuffed and size of cabbage head. This quantity will, I am sure, be plenty to cover all the bases!)

I have made this several times and it is a winner. The only thing I do is add some vinegar with the tomatoes for the sauce. The gingersnaps really put this over the top. It takes a bit of work but is worth it. You could probably omit the carrots and celery but give it a try as is first.
Core cabbage and separate leaves (about 18 leaves).
Blanch cabbage leaves in boiling water to which 2 Tablespoons of vinegar has been added.
Gently pour into colander to drain and rinse under cold water.
Place beef in a large bowl.
Add cooked rice, salt, pepper, 1 teaspoon of the white sugar, 1/2 teaspoon brown sugar, beaten eggs, 1/2 cup chopped onion and ketchup.
Mix to combine.
Place approximately 1/3 cup mixture on each cabbage leaf and roll up,tucking in sides and secure with toothpicks.
Sprinkle diced carrots,remaining onions and celery on bottom of large casserole dish or baking pan.
Place rolls on top of vegetables in pan.
Coarsley chop tomatoes and pour in saucepan.
Add rest of sugar, brown sugar, gingersnaps and lemon juice.
Heat at slow simmer until sauce is heated through.
Sauce should have a sweet and sour taste.
Add more salt and pepper if you wish at this point.
Pour sauce over cabbage rolls and cover baking pan.
Bake at 350 degrees Fahrenheit for 2 hours.
Notes:.
This dish can be frozen before baking, then thawed and baked when needed.
You could also divide this recipe and freeze half the rolls and sauce for another meal.