Sweet 'n' Sour Sausage-Crock Pot
PaulaG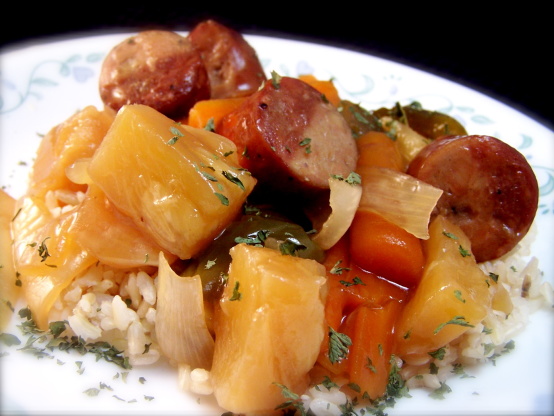 Sounds yummy. Saved here for safe keeping.

I was looking for a last minute meal using ingredients on hand and this recipe caught my eye. I made this on the stovetop & it came together quickly. I added 1/4 cup of rice vinegar for the "sour" and used fresh ginger and garlic. The flavors were mild, the dish was colorful, and there was lots of sauce to spoon over rice. Win win for a quick to fix meal! Thank you for sharing the recipe!
In a slow cooker, combine the first 10 ingredients. Cover and cook on low for 4-5 hours. In a small bowl, combine the cornstarch and water until smooth. Pour into crock, turn on high for about 30 mins or till desired thickness. Serve over rice or noodles.