Sweet 'n Sour Sauce for Meatballs or Chicken
Lainey39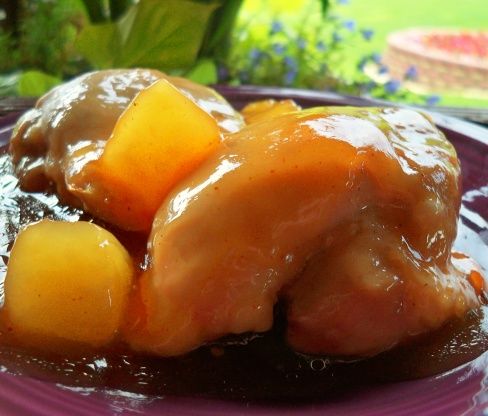 Sweet and tangy sauce for meatballs or chicken. I developed this recipe as a variation on my simple sweet and sour dipping sauce used in my Asian inspired Confetti Rolls recipe. Still very simple to make but a little more sophisticated with the addition of brown sugar, pineapple and green pepper. I hope you enjoy it too!

Wow, this is a good sweet and sour sauce! It was so easy to put together as well. I cooked some bite sized pieces of chicken in a large skillet, and after they were done I added some of the sauce and simmered for a few minutes. I served it with your Recipe #381017. We had a great meal tonight, thanks to you Tink! Made for Pick A Chef, Spring 2010.
In medium saucepan stir together both sugars, cornstarch and seasoning salt. Mix well.
Stir in pineapple, vinegar and water. Bring to a boil. Reduce heat just enough to keep it at a low boil. Cook and stir for 2 minutes.
Stir in Worcestershire and cherry juice.
Add green pepper, reduce heat to a simmer and cook for 3 minutes.
For Meatballs: Pour sauce over your favorite cooked meatballs in casserole dish or in a pan on the stove and heat through.
For Chicken: Place boneless, skinless chicken breasts into 13x9x2 inch baking dish sprayed lightly with non-stick cooking spray. Cover and bake at 350° for 20-30 minutes depending on thickness of chicken. Bake until chicken is no longer pink in the center. Uncover the last 10 minutes of cooking.