Redsie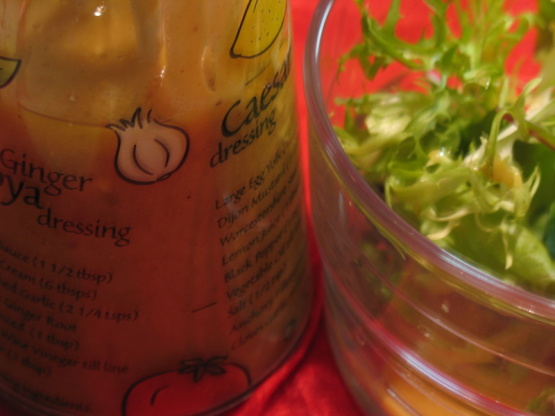 This is a mediterranean style dressing. A nice kicked up version of a honey mustard dressing. Makes about 1/2 cup. I use this on salads, chicken and fish. If I use it on meat, I usually drizzle it on after cooking or use as a dipping sauce. If you try it, I really hope you enjoy it!

Mmmmmm!!!! I made this tonight because I had leftover chicken fingers and needed a dipping sauce. WOW! This was so good! I didn't use any salt or pepper but other than that followed the recipe exactly! The vinegars & honey give it the best flavors.. not to sweet, just a little vinegary... perfect! I'm thinking of making a large amount and basting some chicken with it and keeping some on the side for dipping! It's a keeper!
Combine all ingredients, except salt and pepper, in a small jar or salad dressing bottle.
Shake till well blended.
Add salt and pepper to taste.
Will store up to one week in fridge.
Always shake before serving.