Sweet Maple Roasted Brussels Sprouts
PaulaG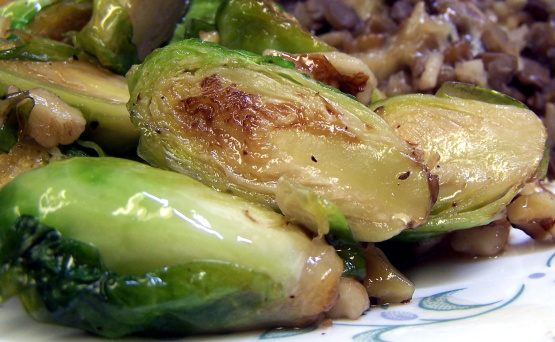 When cooked properly Brussels Sprouts have a sweet and nutty flavor with a slight hint of bitterness. This quick and easy recipe offsets that slight bitterness with a sweet maple syrup pan sauce. The recipe can be easily halved. I adapted this from Julie Taras of Little Giant restaurant in New York City.

These sprouts are so good! They had a nice sweetness to them but weren't too sweet. I cut the recipe in half and only used about 2 tablespoons of butter. My sprouts were quite big though so I had to cover the pan and cook them longer near the end since they weren't quite ready. I forgot to add any nuts but I will next time! Thank you!
Over high heat and in a very large skillet, heat canola oil until shimmering. Add sprouts to the skillet and season with salt and pepper. Cook sprouts over high heat without stirring until they are nicely browned, around 2 minutes. Add butter and brown sugar and continue cooking over moderately high heat, occasionally stirring, until the sugar has melted. Add maple syrup and cook, stirring occasionally, until the Brussels sprouts are JUST crisp-tender, about 7 minutes. Do not overcook sprouts - if they begin to emit an unpleasant sulfur smell they have cooked too far. Stir in vinegar. Add chestnuts or walnuts and walnut or grape-seed oil and cook until hot.
Transfer the brussels sprouts and nuts to a bowl using a slotted spoon. Boil the cooking liquid over high heat until it slightly thickens, about 3 minutes. Pour pan sauce over the brussels sprouts and serve.