Annacia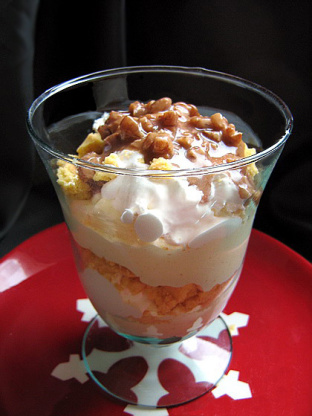 This is a sweet and delicious parfait that takes minutes to make. Adapted from Kraftfoods.com.

I wish I could give this more than 5 stars. I used all diet products except for the cookies (and by not buying the premimum brands they wern't truly horrible in fat and sugar). I juse Jello fat/sugar free pudding, the lightest Cool Whip, no sugar added maple flavored syrup, skim milk. Still, it's not something I would have everyday but for a special dinner or holiday? You Bet! It's rich tasting and so very decadent feeling that you *almost* feel guilty. Thanks KelBel for a real keeper!
Combine pecans, 2 tablespoons of the syrup and the butter in small microwaveable bowl.
Microwave on high 2 minute or until thickened, stirring every 30 sec.
Spread onto large piece of waxed paper or foil; cool completely.
Meanwhile, pour milk into medium bowl.
Add dry pudding mix.
Beat with wire whisk 2 minute or until mixture is well blended and starts to thicken.
Add 1/3 cup syrup; mix well. Gently stir in 1 cup of the whipped topping.
Spoon 1 tablespoons of the cookie crumbs into each of six dessert dishes; top each with layers of 3 tablespoons of the pudding mixture, 1 tablespoons of the remaining whipped topping and 2 tablespoons of the remaining cookie crumbs.
Repeat layers of pudding and whipped topping.
Sprinkle evenly with pecans.
Drizzle remaining 2 tablespoons syrup evenly over parfaits just before serving.