Sweet Jalapeño Glazed Ribs
teresas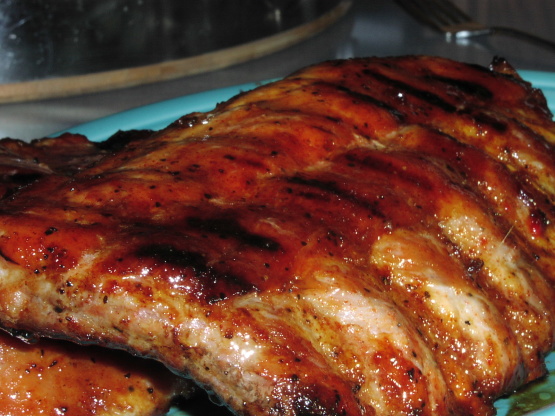 This is a great BBQ recipe or in the oven. Not to time consuming, but a long time to cook. You can tweak this recipe any way you want and I do it a little differently every time.
Mix dry rub ingredients and rub onto ribs. Let sit in refrigerator at least 30 minutes to two hours.
Wrap ribs in foil and place on grill (or oven) on low heat for 1 1/2 - 2 hours or until very tender.
While ribs are cooking mix glaze ingredients and simmer until mixture begins to thicken.
When ribs are tender remove from foil and place onto grill (or cooking sheet in oven) and turn heat up to medium brush glaze over ribs.
Cook for another 20 minutes.
Serve ribs with remaining glaze for dipping.