Sweet Italian Sausage With Penne Pasta
Lainey39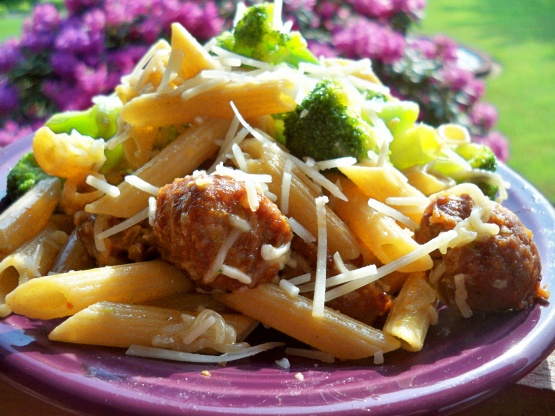 We are Italian and if you go through my recipes you'll find alot of wonderful, quick and easy pasta dishes. We love our pasta and we love garlic, too! Serve this with garlic Texas toast. I can't eat pasta much anymore because I'm diabetic but my husband and daughter love it so I keep making it for them. I usually eat salmon (I have one or two good ones for salmon, too- check them out).

Top Review by CindiJ
Being diabetic and craving Italian fare is the pitts! But this recipe rescued me from my cravings. I did omit the pasta completely, used fresh broccoli and sliced some cherry tomatoes cut in half. It was delicious and satisfying! I could see using pepperoncini peppers and olives in it as well and probably will the next time I make this. Thank you for a wonderful recipe I will enjoy again!
Boil the water and cook the penne according to package directions. DO NOT ever add oil to the water! It will make your sauce slide off the pasta later.
Meanwhile, heat the oil (medium-high heat) in a large skillet and saute the broccoli, sausage and garlic until tender and starting to brown, about 15 to 20 minutes.
Toss the butter, hot pasta, sausage mixture and romano cheese together and serve. Pass the grated cheese at the table.